DATAPIXEL
DATAPIXEL was founded in 1999 with the objective of designing, developing and manufacturing systems and solutions in the field of computer vision and dimensional metrology in industrial and professional applications. DATAPIXEL developments are market driven, and provide high-end products to sectors such as automobile, electronics, energy, railway or aeronautics. DATAPIXEL supplies solutions in 3D dimensional inspection, virtual metrology, in line inspection and robot guidance systems by means of its sensor OPTISCAN, the best non-contact dimensional sensor of its kind, not only in accuracy or repeatability, but also in manageability and versatility.
DATAPIXEL offers leading edge non-contact measurement systems and 3D scanning solutions. Our solutions are designed to help manufacturing organisations to reduce their time-to-market and their overall production costs, and to improve the quality of their products.
DATAPIXEL product and service catalogue is formed by:
3D optical micro and nano-sensors. DATAPIXEL designs, manufactures and commercialises high-precision and high-speed 3D optical sensors for 3D micro and nano-measurement and digitalisation.
3D point cloud management & control systems: DATAPIXEL designs and develops optical sensor controls and highly flexible 3D point cloud information management systems for integration in complete digitalization and measuring setups.
3D point cloud analysis software: DATAPIXEL develops 3D point cloud data acquisition and processing modules for automated geometric feature extraction, profile and surface analysis.
The main activities of the company are:
Design, development and commissioning of non-contact optical instrumentation in production line and measurement laboratory for quality control, dimensional and geometrical inspection.
Consultancy on development and inline integration of customized non-contact optical sensor technology within the aeronautical, automotive, energy and electronic sectors.
DATAPIXEL holds the Presidency of EMVA (European Machine Vision Association) and has actively collaborated in the development of the Strategic Research Agenda of the Photonics 21 Technology Platform, where it plays a key role. DATAPIXEL is also part of the micro- and nano-technology expert group set up by the EC in the area of metrology.


(Submitted and approved by Mireia Gilibert on 2013-01-30)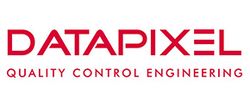 Type

Small and Medium sized Enterprise

Country

Spain

Website