ITEA organisation & bodies
The main tasks of the ITEA organisation are to:
Create/increase awareness of the programme;

Help set up projects and continue to support them throughout their term;

Ensure rigorous quality from Call opening to completion; and

Monitor changes in technology and steer the techno-business relevance of the programme accordingly while maintaining strong co-operation with Public Authorities and other Eureka Clusters programmes.
Four bodies are in place – the Board, the Board Support Group and the Steering Group supported by the fourth - the ITEA Office - to achieve these goals in combination with efficient procedures and the implementation of an overall communications policy.
The different tasks of the bodies are shown in the figure below: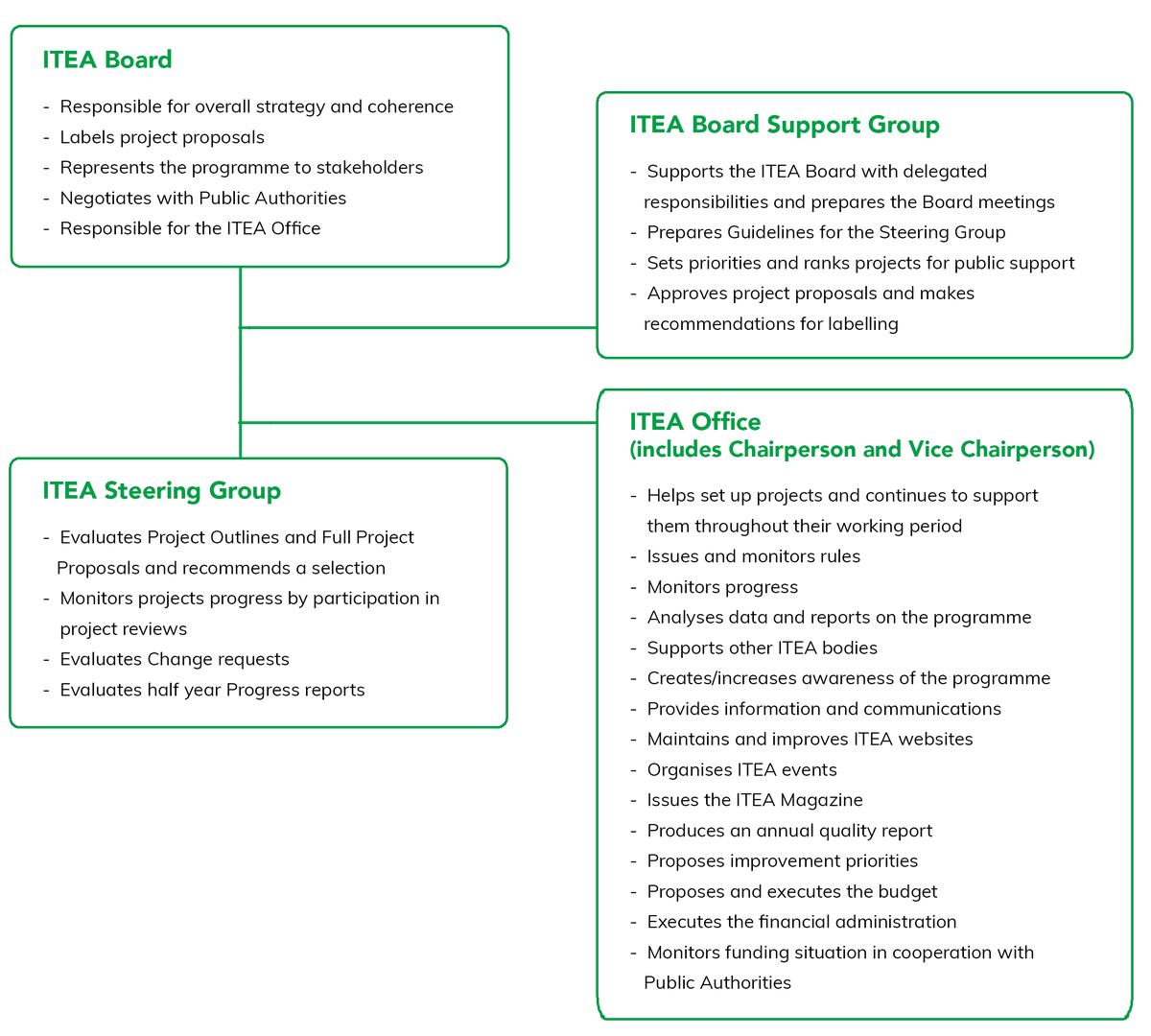 The ITEA Board
As the top executive body in ITEA, the Board is responsible for the strategy and coherence of the whole programme. It establishes general rules for programme management, communicates with Public Authorities for programme strategy and co-funding, and issues ITEA labels.

Non-voting members
Chairwoman

Zeynep Sarılar

Vice-chairman

Jean-François Lavignon

Office Director

Jan Jonker
Board Support Group
The Board is assisted by the Board Support Group, which approves project proposals and recommends projects for labelling. It is responsible for preparing board decisions and board meetings, and provides guidance to the Steering Group, taking into account the strategic objectives and resources of ITEA. It communicates with the ITEA Authorities Committee (ITAC).
Steering Group
The ITEA Steering Group is the technical brain behind the programme. It makes recommendations on strategic orientation and is responsible for the initiation of projects, their evaluation and monitoring. It recommends projects for selection and labelling, and for priority setting and ranking by the ITEA Board Support Group.
ITEA and the Public Authorities
The Public Authorities harmonise and synchronise measures related to the ITEA programme to ensure continuity and optimal execution of the programme.