Acapela Group
Acapela Group gives a voice to all your products and services. We invent voice solutions to give the say to content and enrich user interfaces in a natural and intuitive way based on our comprehensive technologies. 'Voice', the spokesperson of your brand, is the core of Acapela's offer: customisable and flexible, it embraces the colours of your "audio charter".
Navigation, Interactive Voice Response, Accessibility solutions, E-learning, Talking Web, Audio-books, are amongst the first applications that learned how to benefit from the advantages of text to speech. Everyday, new applications are popping up and broadening the scope of possibilities.
The Acapela Group evolved in 2003 from the strategic combination of three major European companies in vocal technologies:
- Babel Technologies, created in Mons (Belgium) in 1997;
- Infovox, created in Stockholm (Sweden) in 1983; and
- Elan Speech, created in Toulouse (France) in 1980.
Acapela, a key player leaning upon 25 years of experience, offers substantial and proven solutions adapted to your activity, and presents a complete range of products, services and expertise. In 25 languages and over 50 voices.
Type

Small and Medium sized Enterprise

Country

Belgium

Website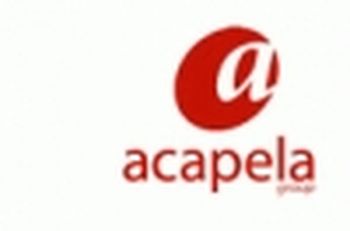 Projects
ITEA 2 Call 3
Do-it-Yourself Smart Experiences