ViNotion BV
ViNotion is a specialized high-tech company in the field of image analysis technology to detect objects in video using pattern recognition and machine learning techniques or to analyse object behaviour.
This technology can be broadly applied like for example for video surveillance, maritime surveillance, to detect objects from a moving vehicle and for people counting in crowds. It is possible to recognize objects by unique properties that distinguish the object in the image, such as the shape, colour or texture. The technology can be applied to detect or recognize objects in photos, videos or large image databases. Using learning algorithms, different object categories can be distinguished to suite specific needs. Specific innovative application areas are:
Maritime surveillance:  the ship detection employs a video camera that 'scans' the waterway. As soon as a ship is detected, a different camera zooms in on the ship and tracks it to create visual support for the harbour traffic operators.
Counting of people:  the system automatically counts passing objects in the scene over time. Different types of objects can be counted and is suitable for usage indoor and outdoor in all weather conditions at location with small gates or wide streets. The technology has been validated for several scenarios, like shopping malls, city centres and large scale events. The use of commodity cameras also allows the video stream to be used for surveillance purposes.
Detection from a moving vehicle:  for detection of objects, the camera is moving and thus the scene background keeps changing even with variations in weather and light conditions (light, shadow, rain). The system doesn't detect other moving objects of a different type. Using image registration, changes in the scene with respect to a previous recording are automatically detected.
Apart from these above mentioned application areas, the technology is widely applicable in different context. ViNotion is constantly performing research activities to improve the technology and develop new innovative products and services.
(Submitted and approved by Jacqueline van der Zanden on 2013-02-19)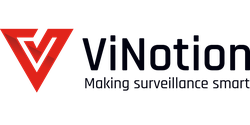 Type

Small and Medium sized Enterprise

Country

Netherlands

Website