Published on 27 Apr 2016
ITEA 2 project DIAMONDS wins EUREKA Innovation Award 2016
ITEA 2 project DIAMONDS won the prestigious EUREKA Innovation Award 2016 in the category 'Added Value' and the Project Pitch Prize during the EUREKA Innovation week in Stockholm on 27 April. DIAMONDS project leader Ina Schieferdecker received the award from Per Tervahauta, Chairman of the EUREKA High Level Group.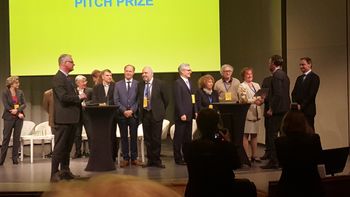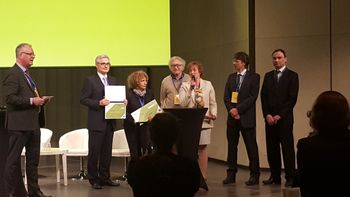 In the morning of 27 April, the ITEA 2 project DIAMONDS was announced as the winner of the EUREKA Innovation Award 2016 in the category 'Added Value'. A winning project was announced for each of the three categories 'Competitiveness', 'Added Value' and 'Innovators of tomorrow'. These three finalists then took part in a contest for the best project pitch, ultimately won by the DIAMONDS project.
The DIAMONDS (Development and Industrial Application of Multi-Domain Security Testing Technologies) project, led by the Fraunhofer FOKUS (business unit System Quality), was carried out by a consortium of 21 industrial and scientific partners from Austria, Finland, France, Germany, Luxembourg and Norway from October 2010 to May 2013. In several industry case studies, DIAMONDS has evaluated efficient and automated security testing methods of industrial relevance for highly secure systems in multiple domains (e.g. banking, transport or telecommunication).
Prof. Dr.-Ing. Ina Schieferdecker, Project Coordinator of DIAMONDS and Director of the Fraunhofer-Institute FOKUS: "We are honoured to receive this prestigious EUREKA Innovation Award. I would like to thank all the 21 project partners from 6 different countries, working on model-based security testing within DIAMONDS. I hope there will be much more research and development in security testing as it is an important topic. Thank you also to ITEA and the EUREKA Network for their support."
Zeynep Sarilar, ITEA Chairwoman: "We are proud of DIAMONDS winning the EUREKA Innovation Award 2016; another prestigious recognition. DIAMONDS increases the global security of our digital society, providing a full methodology for model-based testing for security weaknesses. These tools are already exploited the market in many different products and services".
Sources / More information:

https://itea3.org/project/diamonds.html
https://www.fokus.fraunhofer.de/go/en_diamonds
http://www.eurekanetwork.org