Published on 13 Dec 2021
Fraunhofer receives innovation award for the development of noise reduction system in ports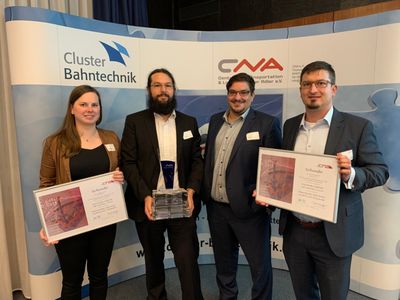 Researchers from the Fraunhofer institutes IML and LBF and TriCon GmbH have won this year's CNA innovation award "Intelligence for Transport and Logistics". As part of the ITEA project I2PANEMA, they developed a system that reduces the noise when handling containers in terminals for combined transport (CT).
When containers are loaded in CT terminals, there is a lot of noise. This is particularly disturbing in inland ports, which are often located in densely populated areas. Researchers from the Fraunhofer Institutes for Material Flow and Logistics (IML) and for Structural Durability and System Reliability (LBF) have therefore worked with TriCon Container-Terminal Nürnberg GmbH to develop a system of gantry cranes that greatly reduces the spread of noise using Active Noise Control, which neutralises the sound waves from the gantry cranes by corresponding sound waves from loudspeaker systems.
The development of this system is part of the ITEA project I2PANEMA, which digitizes processes in ports, making them more efficient and sustainable. With the help of demonstrators, the researchers show how innovations such as the Internet of Things can be transferred to processes in inland and sea ports. The scientists at Fraunhofer IML are working with 17 project partners from Germany, Spain and Turkey.
On October 28, 2021, the Fraunhofer researchers and TriCon received the CNA innovation award "Intelligence for Transport and Logistics" for the noise reduction project. The award ceremony took place as part of the "25 years CNA e.V." anniversary event in Nuremberg. State Minister Kerstin Schreyer from the Bavarian State Ministry for Housing, Building and Transport gave the laudatory speech.
"We are very pleased about the award, which also underlines the importance of our work on digitized inland and sea ports for logistics and the economy as a whole," says Prof. Uwe Clausen, director of the Fraunhofer IML.
The innovation prize "Intelligence for Transport and Logistics" is being awarded for the 19th time by the Center for Transportation & Logistics Neuer Adler (CNA). The award honors companies for outstanding projects, products or services that make a special contribution to sustainable economic growth, to safeguarding jobs and to maintaining the competitiveness of the Bavarian economy.
This news was shared by several media:
Related projects
ITEA 3 Call 4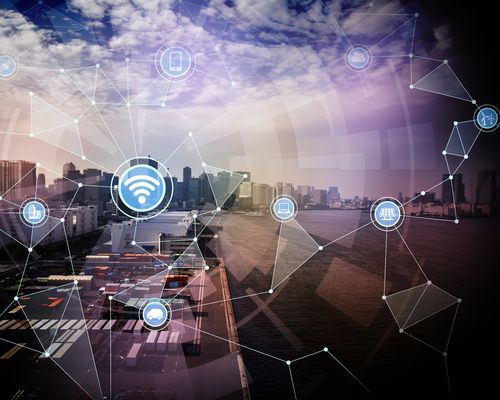 Intelligent IoT-based Port Artefacts Communication, Administration & Maintenance