Published on 16 Sep 2022
Congratulations to our 2022 ITEA Award of Excellence winners!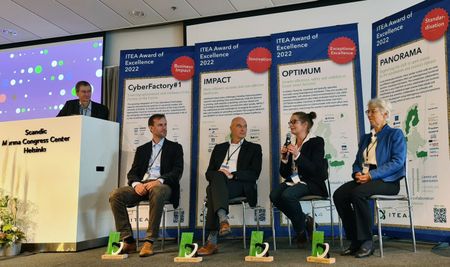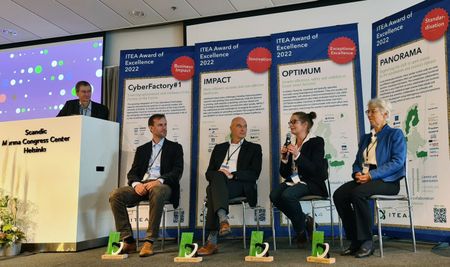 On 15 September, during the 2022 ITEA Awards of Excellence ceremony in Helsinki, four projects were awarded for their impressive results with great benefits for industry and society: CyberFactory#1 (award for Business impact), IMPACT (award for Innovation), PANORAMA (award for Standardisation) and OPTIMUM (award for 'Exceptional excellence' for outstanding results in all three categories).
Hosted by ITEA Vice-chairman Jean-François Lavignon, this ITEA Awards of Excellence ceremony not only presented the results of these projects, it also provided a great opportunity to learn from the best, as the project leaders and mentor shared what it takes and brings to create an award-winning project.
We are very proud that such impressive results were achieved within the ITEA programme, making the world a better, safer and healthier place. We invite you to discover more about these projects!
CyberFactory#1 - fostering the optimisation and resilience of the Factory of the Future
To enable the Factory of the Future, optimisation must be reconciled with security. The growing integration of Information Technology (IT) into Operational Technology (OT) exposes manufacturing systems to a growing number and diversity of threats. The CyberFactory#1 project has designed, developed, integrated and demonstrated a set of key enabling capabilities to foster the optimisation and resilience of the Factory of the Future (FoF). The impact is expected to reach around €150M additional revenues for the project partners and 450 extra jobs by 2025. CyberFactory#1, a project born within Industry 4.0, has been recognised as a pioneer of Industry 5.0 for its contributions to a more sustainable, human-centric and resilient industry.
More information: CyberFactory#1 project and press release
IMPACT - making healthcare more efficient, accurate and cost-effective
Healthcare faces many challenges, including improving patient outcome and working more cost-effectively, while the demand is growing, staff capacity is declining, and new clinical and technological developments succeed each other quickly. The IMPACT project has addressed several challenges by leveraging the power of data and building on the preceding award-winning ITEA projects MEDIATE and BENEFIT to move towards intelligence-based healthcare. Data analysis for clinical business intelligence has been accelerated, reducing the time needed for data analysis to less than five minutes, compared to the days or weeks it previously took. IMPACT will continue to impact society and further enhance patient experience, improve population health, reduce costs and improve the work life of healthcare providers.
More information: IMPACT project and press release
OPTIMUM - offering greater efficiency, safety and usability in future smart factories
In today's factories, machines such as cranes are typically operated manually using heterogeneous hardware. These are usually not interoperable and diverse control environments are in use; static machine configurations also make evolution hard to achieve. The OPTIMUM project enables machines of different kinds and from different manufacturers to communicate with each other and their operators, improving the worker's and equipment's safety. OPTIMUM's innovative assistance functions will significantly reduce assembly times in semi-autonomous processes; an 18% reduction was already achieved during a Proof of Concept. Users of the software and applications developed in the OPTIMUM project will have safer and more flexible material handling processes.
More information: OPTIMUM project and press release
PANORAMA - supporting the shift to open source
In the automotive domain, many similar control units are used, but different organisations often use heterogeneous functional domains, hardware and teams. This complicates collaboration, while this is very important as many stakeholders are involved. The PANORAMA project has created an open-source meta-model and framework that promotes collaboration on software and hardware development using heterogenous tools and practices and without losing control of one's own data. Clear benefits can be seen in maintainability (with a time reduction from 57 to 12 days), reliability (A grade for code quality from the industry standard SonarQube) and efficiency (reduction of local set-up of the installation and integration of several tools from eight hours to 0.8 hours). Having already built up a large open-source community worldwide, the project has a strong foundation to continue reducing the costs and increasing the quality of software development both now and in the future.
More information: PANORAMA project and press release
ITEA congratulates the ITEA Award of Excellence winners for contributing to a better society!