Published on 23 Jan 2023 · Dedicated session organised by Vinnova and ITEA
Sweden Innovation Days 2023 – enabling innovation that makes a difference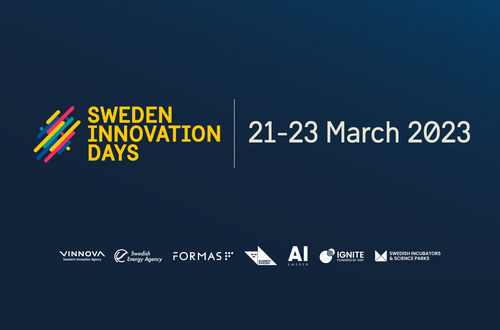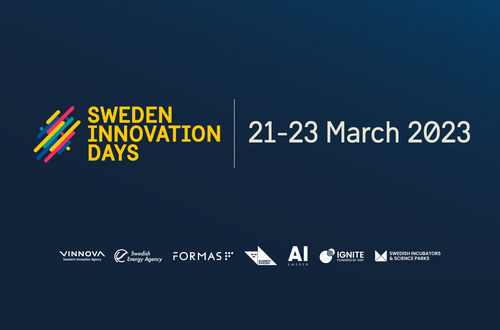 Sweden Innovation Days is a free 3-day, global digital event, dedicated to fostering international collaboration. Taking place on 21-23 March, 2023, this is the third time this event brings together innovation actors from around the world to share best practices, knowledge and foster partnerships with clear and actionable missions to create a more sustainable world.
This year, Sweden Innovation Days will focus on how we can enable innovation that has a positive environmental, economic and societal impact. During 3 days, the event will feature a digital mainstage programme with key experts, case studies and interviews and a broad range of side events conducted to dive deeper into the topics covered on the digital mainstage. Each day will focus on a different aspect of the innovation journey. Day one's theme is 'Paving the way for innovation' and will explore how government agencies can foster greater innovation at all levels. Day 2 will focus on 'Enabling Innovation - The Swedish way' and will showcase how Sweden is working towards a more sustainable future. Day 3 is about 'Creating real impact' and will highlight how we measure the ways innovation is creating an impact and look at real results.
Dedicated session organised by Vinnova and ITEA
On day 3 of the Sweden Innovation Days, Vinnova and ITEA will organise a dedicated session about the opportunities and results of international collaboration in software innovation. This online session will take place on Thursday 23 March from 10.00 - 11.00 CET and is meant for Swedish companies that are looking for international partnerships/consortia and non-Swedish organisations that are looking for Swedish partners to develop or strengthen their ideas on software innovation.
The session is illustrated by best practice cases of participation in ITEA projects, presented by an international large industry collaborating with Swedish partners and a Swedish SME that benefitted from collaborating with international partners in an ITEA project. Furthermore, Vinnova and ITEA will be explained by Susanne Liljeblad from Vinnova and ITEA Chairwoman Zeynep Sarilar in an interactive setting, which will provide sufficient room for Q&A.
Join us!
This session provides a great opportunity to discover more about ITEA and learn from experienced project partners. So if you are interested in joining in one of our future Calls for project proposals and collaborate with Swedish partners, register for free: https://swedeninnovationdays.se/. We hope to see you there!