Published on 11 Dec 2020
Strong results for ITEA PARTNER project
Great team effort to develop a common architecture for health data management and visualisation
Healthcare is typically organised around data silos, which is a huge obstacle to administrative transparency and efficiency. This is also a vicious cycle when it comes to patient self-management: a lack of data on patients at home makes treatment less effective, while less effective treatment means increased mortality and morbidity. Fortunately, the ITEA project PARTNER (Patient-care Advancement with Responsive Technologies aNd Engagement togetheR) breaks down these negative feedback loops.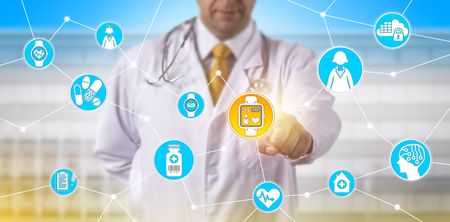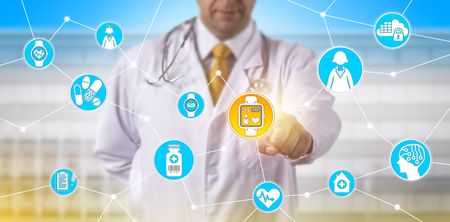 In a nutshell, PARTNER's goal was a proof-of-concept demonstration of a heart failure patient's journey through a secure architecture with multi-vendor interoperability across smart wearables, data harmonisation and real-time collaborative care management solutions. By bringing the right data to the right place through intuitive dashboards and enhanced Electronic Health Records (EHRs), enormous improvements can be made to the efficiency of clinical teams. Transparency and engagement can also be guaranteed for the patient through new portals and patient management systems. Each partner has developed new and innovative secure, patient-centric solutions which are ready to be further exploited in the healthcare IT market.
Pushing for a paperless workflow
One such example is Barco Synergi, a collaborative software platform for multi-disciplinary team meetings and group discussions. These are currently error-prone due to the manual, time-intensive effort of preparing to discuss each patient. The live meetings themselves can be chaotic: patients often need to be pushed back and a lot of data is missing or hardly visible to participants – a far from paperless workflow. Thanks to PARTNER and the use of open standards like SmartOnFHIR (Fast Healthcare Interoperability Resources), we could create intuitive patient dashboards for clinical teams based on input from multi-vendor data sources. Real-time collaborative streaming solutions allow them to review radiology and pathology imaging (as well as any other clinical context) in the main meeting room.
A similar output was achieved by DapaSoft and Sopheon, which converted new and existing features to their applications so that they fit into the MS Teams framework and thereby improve collaboration among clinicians. Sopheon has brought its MS Teams integration to the market under the name Microsoft Connect, which was launched as part of its Accolade 13 release and has already been sold multiple times. Barco Synergi and MS Teams collaboration are especially relevant in these unusual times: although COVID-19 has forced clinicians to host meetings in a hybrid set-up, these technologies enable them to share vendor-neutral content and allow any remote participant to review and engage in these live-critical patient discussions. The first feedback shows efficiency improvements of up to 10% compared to the traditional workflow.
All around the world
Perhaps most importantly, PARTNER was a great team effort. Although partners were separated across three continents and time zones and no face-to-face meetings could be organised in 2020, the strong collaboration exceeded its initial goals and will continue to thrive after the project's end. DapaSoft and Sopheon, for example, have teamed up with iClinic, Calgary Scientific and MedRecord and integrated the wearable technology from imec and XCO to develop a clinical dashboard in Corolar Virtual Clinic within Microsoft Teams. This exhibits harmonisation across multiple partners while following a patient's journey from early heart failure symptoms. It gives the emergency doctor full access to all relevant historical data from the patient's medical record and allows the clinician to manage this from a single platform. Work is ongoing to integrate this into solutions by ITEA partners in Europe, Canada and South Korea.
Another example comes from imec, NXP and XCO, who have teamed up to develop new sensor technologies for medical diagnosis, helping (for instance) to analyse patient movement patterns and improve ECGs. Other consortium partners are extending their reaches far beyond the project, helping to further its reach in new regions and domains. XCO, for instance, has concluded a commercial agreement with iClinic and non-PARTNER members Kinduct, Indoc and OBI to complete a frailty care system in 2021, targeting revenues of USD 163 million over 3.5 years. It has also signed a memorandum of understanding with Western University in the UK and Canada and a six-figure contract (pending final approval) on the implementation of musculoskeletal assessment systems in their patient clinics and research labs.
Despite these obvious commercial benefits, PARTNER's core value is 'one patient, one team'. By providing patients with the dedicated support of the same group of individuals and allowing them to monitor their own health outside of hospital, a far greater degree of freedom and comfort can be achieved. In spite of their illness, patients can retain their dignity and a higher quality of life than in previous years. This is the promise of PARTNER.
More information
Related projects
ITEA 3 Call 3
Patient-care Advancement with Responsive Technologies aNd Engagement togetheR