Published on 26 Mar 2019
Saab AB joins the ITEA Board
Paris, France, 21 March 2019 - Sweden has been an active member country in ITEA since its beginning in 1998. Over the past few years, the participation has been increasing very fast and Sweden is now 7th in terms of effort per country in the ITEA 3 programme. The Swedish Public Authorities and ITEA have taken a number of initiatives to achieve this growth and Vinnova strongly supported the organisation of the ITEA PO Days 2018 in Stockholm, facilitating even more Swedish participation in the upcoming ITEA Calls.
This high level of involvement and dedication have led to the wish to strengthen the ITEA Board with an additional Swedish member. Saab, invited upon request by Vinnova, was very pleased with this opportunity and its application was unanimously approved by the ITEA Board. On 21 March, Stefan Andersson, Director Future Aircraft Systems at Saab AB and Zeynep Sarilar, Chairwoman of the ITEA Board, officially signed the Deed of Accession in Paris, France.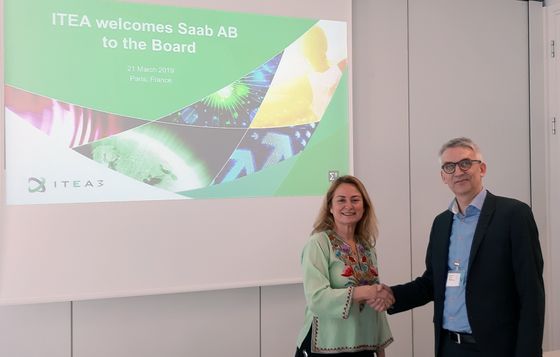 Saab serves the global market with world-leading products, services and solutions that increase security to keep people and society safe. Its portfolio ranges from military defence to civil security including application areas such as Aircraft Systems, Naval and Underwater Systems, Sensor Systems, Command and Control, Cyber Security, and Traffic Management Systems. With operations on every continent, Saab continuously develops, adapts and improves new technology to meet customers' changing needs. Saab has around 17,000 employees. Annual sales amount to around EUR 3 billion, of which they re-invest about 23% in research and development.
Saab became an ITEA partner in 2013 and has been active in several projects since then. They currently lead the ITEA OPENCPS project (Open Cyber-Physical System Model-Driven Certified Development) and are involved in three Full Project Proposals in ITEA 3 Call 5, which have just been labelled.
"ITEA is now stronger with Saab on its Board. The speed of innovation is getting faster and faster and the only way to benefit from this speed is via collaboration. Saab not only has a proven track of success in technological knowledge base but also has strong ties with the Swedish Innovation Community. The ITEA Community has a strong customer-based innovation culture that creates a direct impact on businesses through transnational collaboration in research projects and ITEA will bring Saab new opportunities and partnerships through this collaboration." ITEA Chairwoman Zeynep Sarılar highlights.
Stefan Andersson, Saab Board member states: "ITEA has shown its value to Saab by providing applied research that addresses our needs and also access to an excellent network of partners in Europe. We are very happy to get the opportunity to take the next step and become a member of ITEA Board so that at a more strategic level we can contribute with research needs and industrial use-cases related to large-scale development of trustworthy software intensive systems."
Read more about Saab AB
www.saabgroup.com