Published on 06 Feb 2019 · 14-15 March, Vienna, Austria
Register now for the ITEA workshop during the 5th International B2B Software Days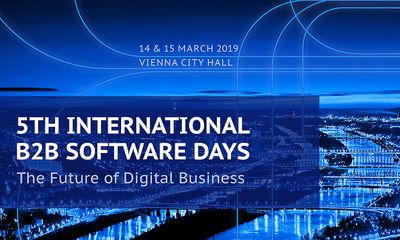 With a strong focus on business impact, the ITEA programme counts several successful projects with Austrian partners, who managed to grow their business as a result of their project participation. During the 5th International B2B Software Days, on 14-15 March in Vienna, Austria, ITEA will share some of these impressive results and help other organisations to grow their business in software innovation.
Join us on 15 March in a workshop on 'How ITEA can successfully boost your business in software innovation'. During this interactive session, our speakers Irina Slosar (Austrian Research Promotion Agency FFG), Fopke Klok (ITEA), Maria Rimini-Döring (Bosch), Martin Benedikt (Virtual Vehicle Research Center), Asli Tanriverdi (Philips) and Anton Strahilov (EKS InTec) will share their best practices and personal experiences and will provide insights in how your business can benefit from participation in ITEA. Afterwards there is plenty opportunity to network with the speakers and other participants.
Workshop 3: 'ITEA - boost your business in software innovation' is scheduled on Friday 15 March from 09:30-11:00 (location tbd).
Programme:
Opening, Irina Slosar and Fopke Klok (10 minutes)

What is ITEA, its community and process
Role of PO Days, supportive to newcomers
Further explanation at booth
Financing

ITEA and Bosch: impact of a string of pearls, Maria Rimini-Doering (15 minutes)

Importance of ITEA for Bosch
Options for others to cooperate with Bosch

The ITEA project ACOSAR, Martin Benedikt (15 minutes)

Brief outline of the project
ACOSAR standardisation and business impact through cooperation

ITEA projects support Philips' solution portfolio, Asli Tanriverdi (15 minutes)

ITEA projects along the Philips healthcare solutions roadmap
Business impact of ITEA projects
SME growth in the slipstream

ITEA supporting growth of EKS InTec, Anton Strahilov (15 minutes)

Introduction of EKS Intec involvement in ITEA and history
ITEA as a compass to growth for SMEs

Q&A with all speakers (20 minutes)
You can register for Workshop 3: 'ITEA - boost your business in software innovation' via the International B2B Software Days event registration (free of charge).
Related projects
ITEA 3 Call 1
Advanced Co-simulation Open System ARchitecture