Published on 06 Sep 2019
ITEA 3 Call 6 opened with promising Project Outline (PO) Days 2019!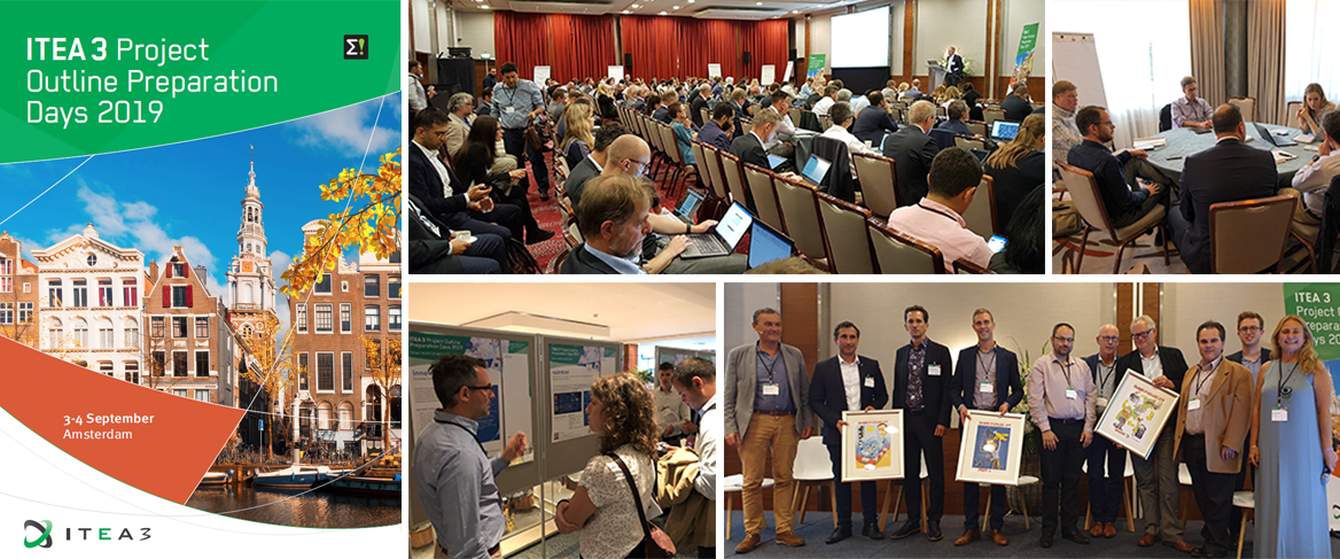 On 3 September, ITEA 3 Call 6 opened with the ITEA PO Days 2019 in Amsterdam. This lively 2-day brokerage event was fully booked weeks before and gathered a record number of 310 participants from 15 countries. Most participants came from the host country the Netherlands, followed by Turkey, Germany and Finland.
With 50% returning participants and 50% newcomers, this event clearly shows the strength of the ITEA Community, which values its existing members and is open for new members at the same time.
PO Days – promising perspective
On Tuesday, 57 project ideas were presented as a poster and 44 ideas were pitched during the parallel pitch sessions and one additional idea even was born during the event. The following brainstorm sessions resulted in 15 intermediate-results presentations on day one and 12 final-results presentations in the closing session on Wednesday.
The project ideas were clustered by 7 societal challenges, i.e. Safety and security, Smart cities, Smart communities, Smart engineering, Smart industry, Smart health and Smart mobility. Although each challenge was well covered, the number of Smart mobility project ideas was remarkably high (14), showing the impact of this year's ITEA Customer workshop on this topic.
Another remarkable topic was AI this year, covered by 27 ideas out of 58. ITEA's ambition must be to transform AI in impact on industry, and not just do advanced research. In addition, simulation is everywhere, leading to digital twin; it is the heart of the digital transition and a tool for many purposes e.g. for design & optimisation, training, command & control, preventive maintenance etc.
A New Office Director
As Jan Jonker took over the reins as the new ITEA Office Director per 1 September, these PO Days were also an excellent opportunity to introduce Jan to the ITEA Community. He succeeded Fopke Klok who has been leading the ITEA Office since 2007. Jan Jonker made his debut on the PO Days stage and stated he's eager to strengthen ITEA further in the near future.
ITEA awards of Excellence
During the PO Days, three ITEA projects received the 2019 ITEA Award of Excellence. They presented their impressive outcomes and impact during an interactive panel session moderated by ITEA Vice-chairman Philippe Letellier. This year's awards winners are: ACOSAR, OPENCPS and Reflexion. ITEA would like to congratulate the winners for having an impressive and proven track record of actual business and societal impact, contributing to a better society in their own way.
Next steps
If you were not able to participate in the ITEA PO Days 2019 but you are interested in taking part in ITEA 3 Call 6, you can still check the project ideas in the ITEA Project Idea Tool (NDA required). Via this tool you can contact the project idea leaders via email in case you would be interested to join a Project Outline.
The final pitches presented at the end of the PO Days were of a high quality and the first 7 Project Outlines for ITEA 3 Call 6 were already shaped on the Community website during the PO Days! We look forward to the additional Project Outlines that will be submitted!
 Deadline for PO submission: 31 October – 17:00 CET
Related projects
ITEA 3 Call 1
Advanced Co-simulation Open System ARchitecture
ITEA 3 Call 1
Open Cyber-Physical System Model-Driven Certified Development
ITEA 3 Call 1
React to Effects Fast by Learning, Evaluation, and eXtracted InformatiON