Published on 12 Jan 2023
Doing business between digital twins has never been easier
An open-source software called Twinaide, which is developed under the ITEA project MACHINAIDE is used to create and manage interoperable digital twins (DT). Utilising digital twins produces a wealth of data regarding expected performance results, facilitating more efficient product research and creation. Before beginning production, businesses can use this data to gain insights that will help them make the necessary product improvements.
Twinaide promises to enable cutting-edge ideas for using, accessing, finding and analysing data from numerous digital twins. With it, users can combine different digital twins to create meta twins, which can manage and visualise telemetry and metadata (i.e., the digital twin data). This assignment has also shown how to import DTs into Twinaide from Twinbase.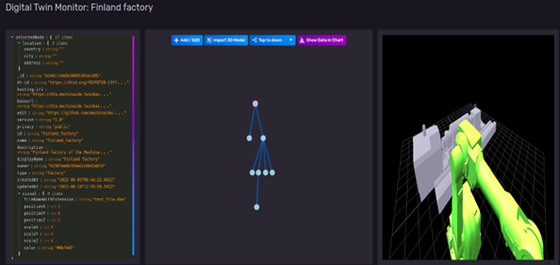 As a Tier 1 supplier, Turkish project partner Ermetal manufactures sheet metal components for the automotive industry. In Ermetal's use case, Twinaide will be installed on Ermetal's 1600T press lines, which will show the acceptable output rates for each individual press line. With Twinaide, Ermetal aims to improve the output rates of certain press lines and to reduce both maintenance costs and waste before breakdowns.
With Twinaide's ability to test new or existing equipment settings, the project consortium aims to acquire an increase in overall operations effectiveness (OOE), and a maximisation of overall manufacturing productivity and business profitability. For example, Twinaide will be utilised as a supporting technology in a Finnish ecosystem use case to link together various industrial locations, digital twins, and their data sources for its Smart Factory application.
In addition to its use in the manufacturing industry, Twinaide is also used in other sectors. An architecture company in Türkiye has already begun using these digital twin solutions in the construction surveying and restoration process, with the goal of improving advance control of the work such as proper footing, foundation, pier and other building construction item placements since they are crucial parts of a strong structure. With the technical gains made through the MACHINAIDE project, Twinaide has the potential to be used in a variety of industries and projects.
More information